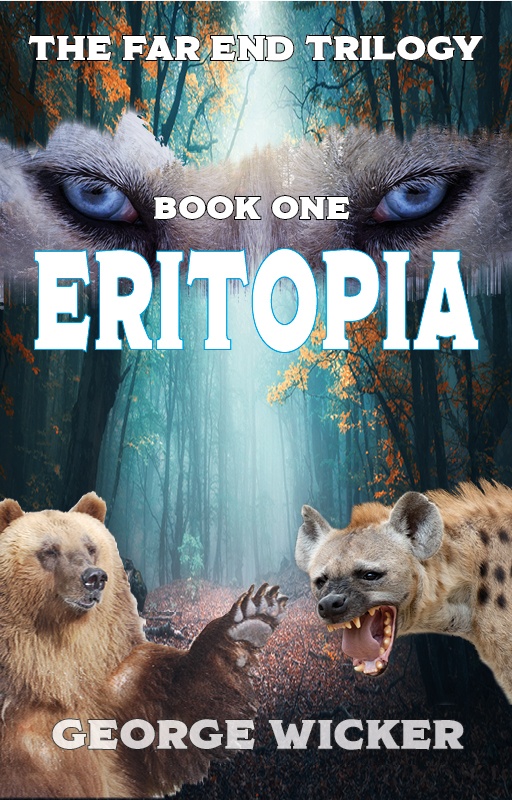 Eritopia - Sample Chapters
Chapters 1 -5 of Eritopia available as a PDF
Or follow this link to read the serialised novel on Wattpad
Eritopia is a Young Adult Fantasy novel, the first book of The Far End trilogy. It begins in an imaginary place, the Inside, where animals live organised lives away from humans. The story follows the quest of an inquisitive youngster, Not-Bear, in his search for a name.On the cusp of a 'Coming of Age' ritual, Not-Bear decides to leave the safe haven of the Inside and strike out alone. His quest takes him through the dense Forest onto a vast Outside, where a City of Men lies in the shadows of distant mountains. To reach it he must fight hyenas and navigate underground caverns in the unlikely company of a rabbit, Map, and a man, Jod.
Unknown to him, Not-Bear has a central part to play in a cyclical shift of power taking place in his world. A cryptic prophecy has predicted his appearance on the Outside. Will the forces of good, on the side of the animals, defeat an ancient evil that threatens to engulf their world?
Eritopia on Wattpad
Eritopia is the first book in the Far End trilogy. I am currently serializing it on Wattpad. The link to Eritopia on Wattpad is HERE.
Young Adult Fantasy on Wattpad
Wattpad is a social media website that allows community members to read and write stories. The site has 90 million members, and thousands of stories get uploaded or expanded daily.
To read, comment and vote on my stories you will need to quickly set up an account with email or your Facebook, Google or Instagram account. If you are using email, you will also need to create a username and password.
Again, it's free, and if you don't like Eritopia (!!!) Wattpad's catalog allows you to browse through millions of ebooks in every genre you can imagine. You can follow your favorite writers and get notifications when they publish something.
I love bookshops, but not everything good gets published in the traditional system…Wattpad is one of the places where talent can flourish and most importantly get reader feedback.