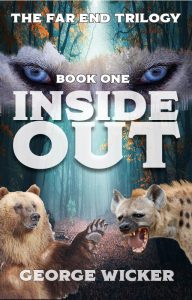 Latest News
My young adult fantasy novel Inside Out is currently being serialized on the writing platform Wattpad.
I've had some nice comments and I will be posting 2-3 new parts a week on there until it's complete.
Please feel free to pop along there, read, comment and share!
The link to Inside Out on Wattpad is HERE
Inside Out – Synopsis
On the cusp of his 'Coming of Age' celebration, Not-Bear decides to leave the safe haven of the Inside. Ignoring the appeals of his friend and tutor Bear, he strikes out alone. Not-Bear is named not for what he is, but for what he is not. To find his real name he sets off for the Outside, a legendary land full of mystery, danger, and Men.
He journeys through the dense Forest onto the vast Outside. The City of Men lies there, in the shadows of distant mountains. To get there he will need to fight hyenas and navigate underground caverns. He will encounters allies in the shape of a rabbit, Map, and a man, Jod. Will they find the answers he needs in the City? Or will evil forces at work in his world overwhelm them?