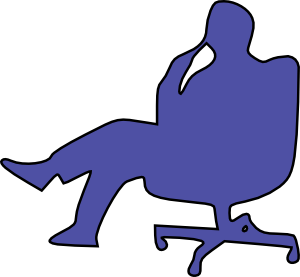 Like me, you're a writer. You write books, aphorisms, novels, poems – you're probably working on something at the moment: memoirs, lyrics, blogs, in short:
YOU NEED TO WRITE
There. It's out in the open; you were born to write. And now, while you're on my metaphorical couch, you need to also acknowledge that you crave success. Whether it's financial security, the Nobel prize, or the adoration of women (or men) – 99% of us want to be successful. That's what we work toward, why we sit for hours scribbling notes or plotting unlikely scenes in fantastic novellas, or erasing unwieldy adverbs from tightly woven stanzas.
The good news is…
You've already been successful. If you're reading this you are one of those wealthy enough to have a computer and a place to work. Dry, warm, free from distractions of starvation and thirst. It's not enough, I know. That's biological. You want to carry on evolving, getting better, working toward that success. And, as you live your comfortable life, you also find you have:
FREEDOM TO THINK
About your status, your position in life, the plight of the billions who haven't yet achieved what you have. But I'm here to tell you – THINKING IS NO GOOD TO YOU. That's right,
Thinking is bad for you
Wait – how can that be? Surely it's thinking that has got me to this good place?
Well, no. Actually It was DOING that got you here. THINKING only stopped you DOING, and getting here quicker. Believe me I know. As someone who has spent years THINKING instead of DOING, I'm in a prime position to tell you. And I believe that:
Education is the problem
For all of our formative years we are taught that thinking is good. Thinking will get you out of a hole. Thinking will get you a better job, more money, qualifications etc.
Wrong. It won't. Only DOING will get you all these things.
OK, I know, it's good to have a plan. And working things out, setting goals, learning ways and methods to get where you want to get both practical and necessary. As a writer that's part of your makeup. But to be successful you need to promote your writing, and that means ACTION. And here we come to an unwavering TRUTH:
THINKING is great, but only if it leads to a solid dose of DOING.
(In the next post we'll look at the 3 worst barriers to productivity as a writer. Please SUBSCRIBE to this blog by email if you want to keep up with the discussion, and also for some free stuff that will be issued from time to time. Oh and thanks, as always, for your interest.)